This colorful Thanksgiving tote bag by
Bebops
with its cornucopia of red, yellow, orange and green squashes and pumpkins highlights the abundant harvest season and why we have so much to be thankful for. You can customize the text to suit your needs.
Cornucopia Thanksgiving Tote
by
Bebops
Learn how to sell my artwork online
at Zazzle.com.
Golden yellow Swamp Sunflowers shine against blue sky on a customizable, eco friendly canvas tote bag by
Littlewing Photography & Design
ready for personalizing. For more options in font style and color click on "Customize it!" ©Little Wing Photography & Design.
Paper, Plastic, or Mockingbird? Here is a tote bag by
Mike's Photographic Designs
with a Northern Mockingbird perched on a twig. Available in all in-stock styles and colors.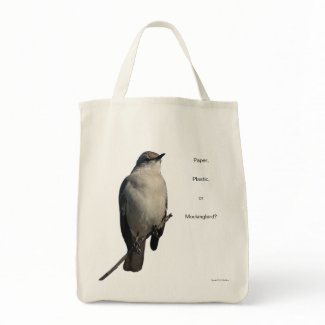 Mockingbird Bag
by
mikes_photo_designs
Browse
Bird Bags